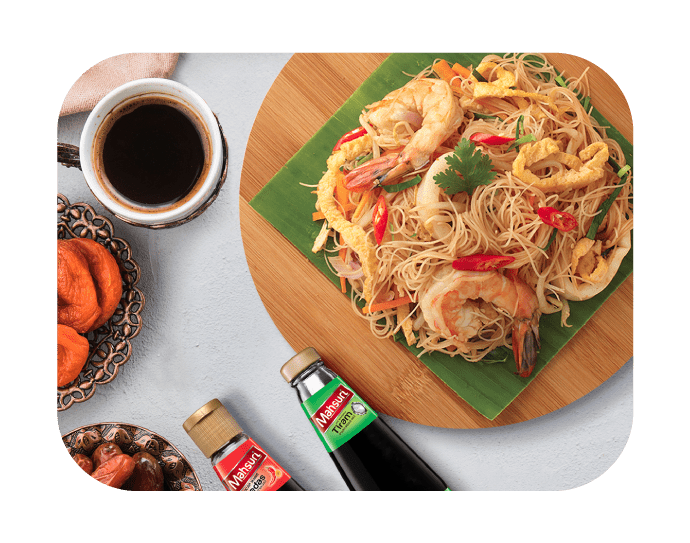 Main ingredient?
Mee, beehoon etc.
Ingredients:
400g vermicelli (blanched)
100g a mixture of prawns and squid
20g garlic
30g onions
50g tom yam paste
3 kaffir leaves (chopped thinly)
5 bird's eye chillies
30g Mahsuri Oyster Flavoured Sauce
20g Mahsuri Hot Sweet Soy Sauce
1 egg
50g carrot
20g chives
30g bean sprouts
10g white pepper
10g chicken stock powder
1 tbsp fish sauce
Coriander
Method:
Saute garlic, onions and add in prawns and squid.
Put in tom yam paste, kaffir leaves, bird's eye chillies, Mahsuri Oyster Flavoured Sauce and Mahsuri Hot Sweet Soy Sauce.
For tomato salsa, mix tomatoes, coriander leaves, red onion, garlic, lemon juice and Mahsuri Oyster sauce. Mix well for a while.
Add salt and sugar, Stir for a while.
Add egg, all veggies, vermicelli and mix well.
Add in white pepper, chicken stock powder and fish sauce.
Garnish with coriander and ready to serve.